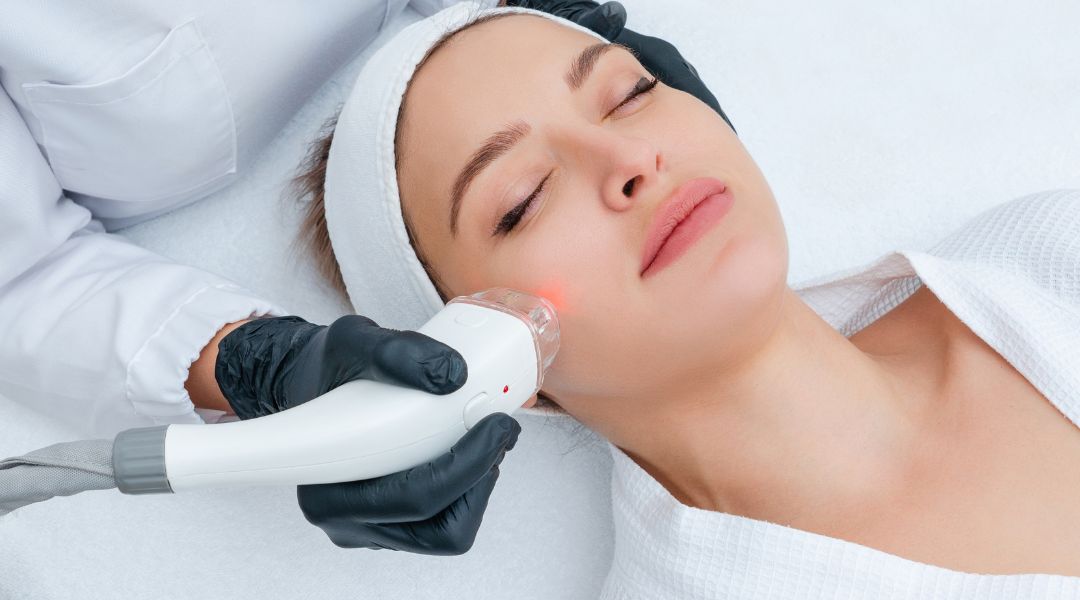 Laser Treatments
Face- $600
Face + Neck – $850
Face + Neck + Decolletage – $999
Neck – $249
Hands – $249
Decolletage – $400
What is Skin Resurfacing?
Laser Skin Resurfacing is a non-surgical procedure that can reverse the visible signs of aging and address many common cosmetic complaints. It removes skin layers, ultimately improving wrinkles and scarring, all while evening skin tone and tightening the skin by stimulating collagen production.
What Does Skin Resurfacing Do?
Skin Resurfacing is known to diminish signs of aging, erase sun damage, reduce pore size, repair acne scars, improve skin tone, and even out skin texture!
How Does Skin Resurfacing Work?
Skin Resurfacing works with the power of lasers, using light energy to penetrate the skin and stimulate cellular turnover. This laser energy encourages new collagen production to improve skin imperfections, including wrinkles, fine lines, and acne scars.
Who is NOT an Ideal Candidate for Skin Resurfacing?
Skin Resurfacing may not be right for you if you:
Have taken acne medication including Accutane or isotretinoin (Claravis, Myorisan, Zenatane) in the last year
Have an autoimmune disease or a weakened immune system
Have a tendency to form scars/keloids
Have had radiation therapy in the facial area
Are prone to cold sores or have had a recent outbreak of cold sores/herpes virus
Have a darker complexion
Are pregnant or nursing
Pre-Treatment Resurfacing Instructions:
Discuss and disclose any healing disorders such as delayed healing, hypertrophic, or keloid scarring

Discuss and disclose if you have diabetes mellitus, connective tissue disease or are currently undergoing radiation/chemotherapy.
Do not proceed with laser resurfacing if you are pregnant or breast feeding
Discuss and disclose allergies to topical anesthetics, antibiotics, or other medications.
You may not be treated if you have used Accutane in the past 12 months
Discuss and disclose any history of skin diseases or disorders
If you have a history of cold sores or fever blisters, you should be taking Valtrex or your regularly prescribed medication for at least 7 days prior to treatment and will want to continue until healed.
Treatments cannot be performed on areas with sunburn or tanned. Avoid direct exposure to the sun, tanning beds or spray tan 4 weeks prior to treatment.  A broad-spectrum sunscreen of SPF 30 or higher should be applied to any treatment area(s) exposed to the sun.
Stop taking any blood thinners, such as aspirin, Ibuprofen, Fish Oil, alcohol, and caffeine 48 hours prior to treatment.
Contraindications:
NO – pregnant or nursing
NO – Accutane use within the past 6 months
NO- Use of medications that can cause photosensitivity, such as antimicrobials, nonsteroidal anti-inflammatory drugs, diuretics, and chemotherapeutic agents (Check medication label).
NO- currently suffering from skin conditions like psoriasis, dermatitis, rosacea, eczema, open wounds
Diabetes
Epilepsy
Blood transmittable diseases such as hepatitis or HIV
Currently treating skin cancer
Have a history of hypo- or hyper-pigmentation or keloid formation
Cannot be currently undergoing chemotherapy or radiation therapy
Before Follow-Up Treatments
Disclose any new medications or changes in health since last treatment
Aftercare for Laser Treatments