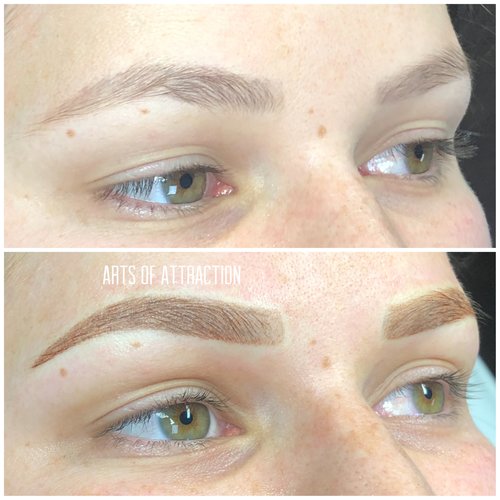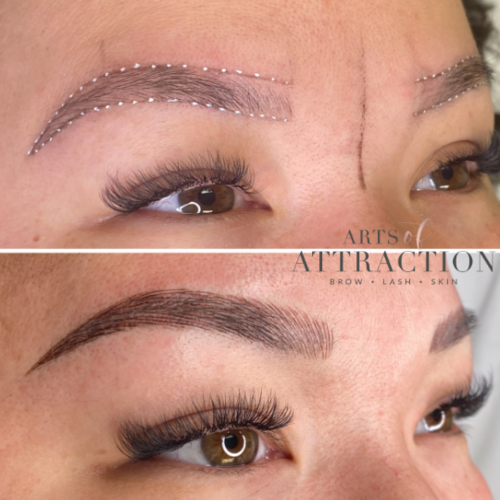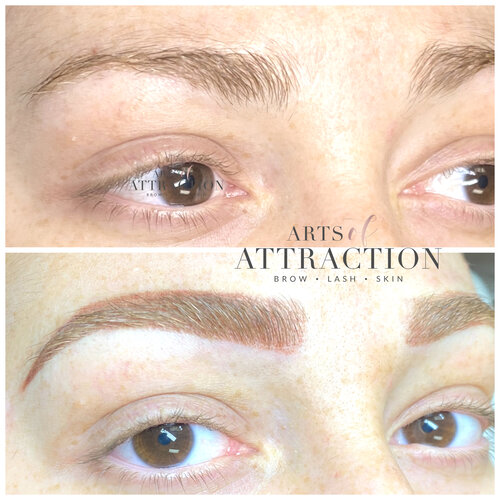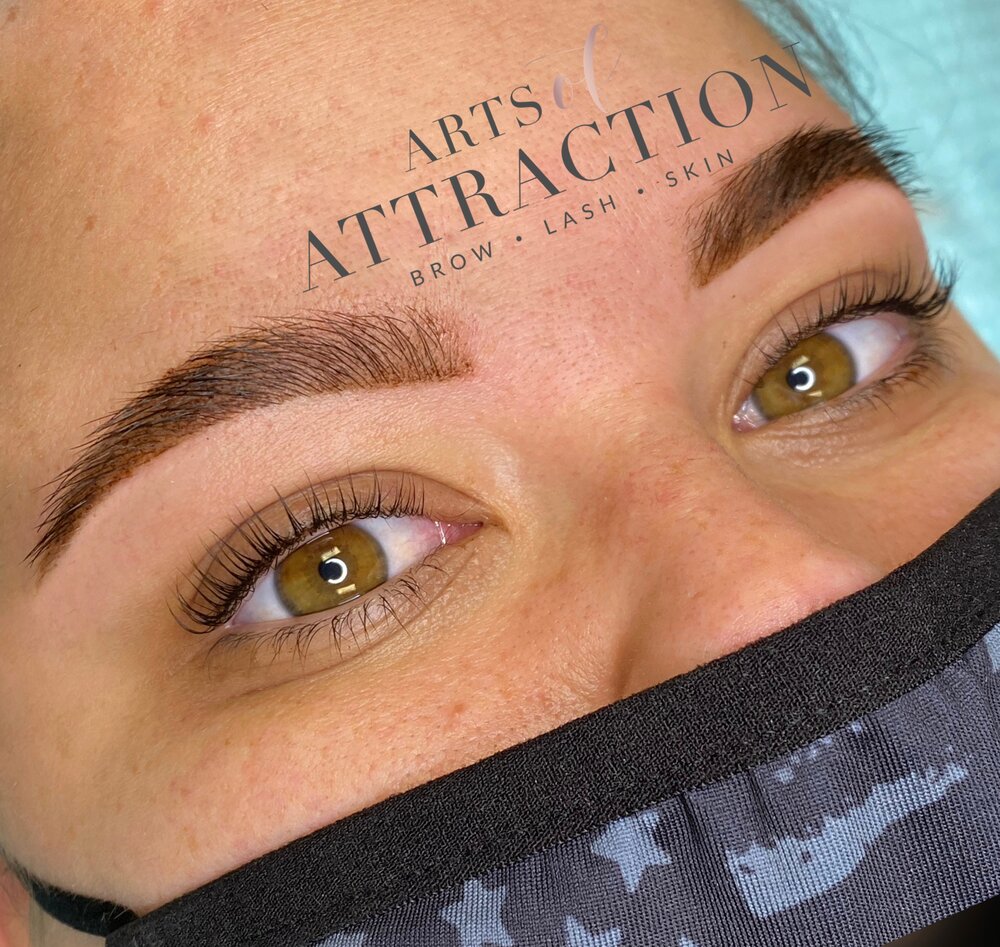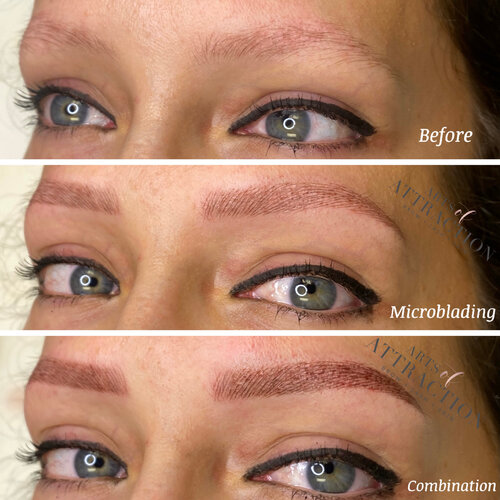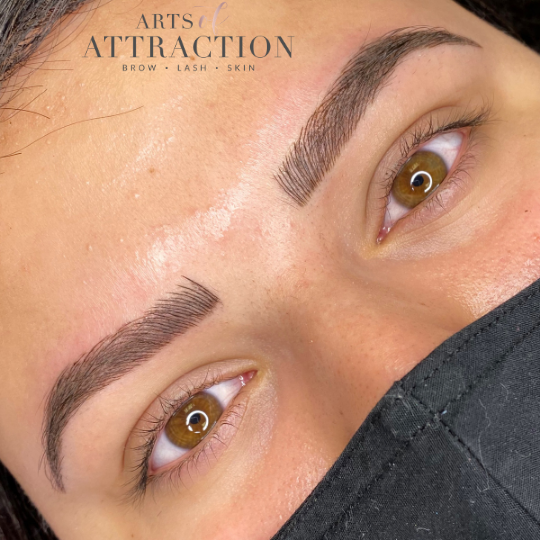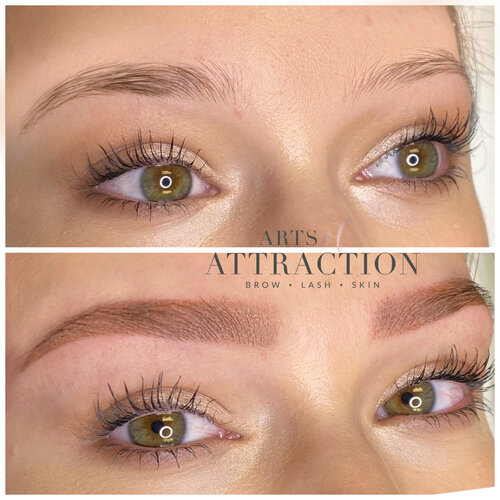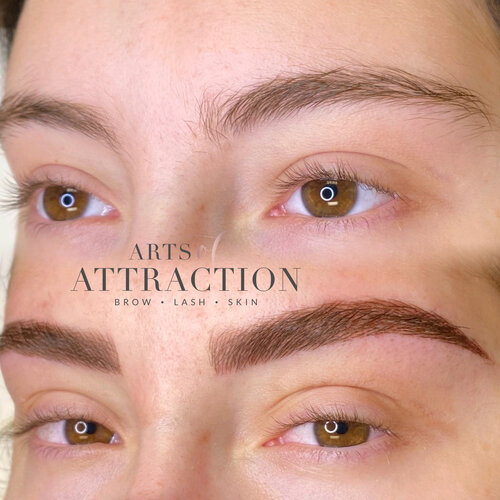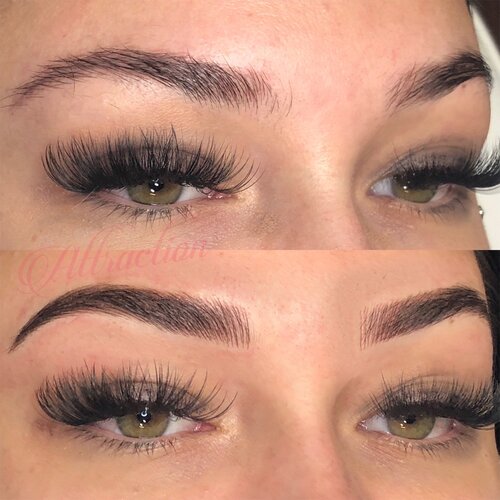 Eyebrow Treatments
Ombre Powdered Brows: $600 – $675
Ombré shading is the newest trend in eyebrow semi-permanent makeup. It gives a soft shaded brow pencil look. Once healed, it is more natural looking than solid color. It gives great definition and depth to the brows. Whether the client is looking for a light soft shading or show-stopping bold brows, it can be customized according to the client's desire.
A $100 non-refundable deposit is required in order to book any form of semi-permanent makeup.
Important! Required minimum of 30 days for skin to heal before we will schedule your Touch-Up. Initial Touch-Up is included, but must be done within the first 30-60 days to avoid an additional charge.
During the Touch-Up, we will apply more pigment, completing your look a more voluptuous brows to your liking.
Touch-up fees for existing clients only:
Less than a Year: $90-$180
After 1 Year: $330
After 2 Years: $495
After 3 Years: Full Price
A touch-up may be required at 12 months or sooner for oily-skinned clients, those who tan often, or often expose brow area to certain chemicals (facial peels, chlorine, anti-aging products, etc.). Pigment retention varies depending on skin type, age, aftercare, immune system, medications, certain chemicals, and the type of pigment used.
We use only the best quality pigments that heal true to color. All materials used during each and every appointment (including pre-sterilized blades) are 100% disposable. We strictly adhere to both Florida Public Health and OSHA guidelines for proper infection control practices.
Please check the FAQ link to make sure you meet all qualifications to receive this service.
On average, how long does the ombré shading last?
It can last from one to three years. The retention depends on a number of factors, including skin type, lifestyle, health condition, sun exposure, etc.
Does it hurt?
The pain level varies from person to person. A medical grade topical anesthetic will be used for numbing before and during the procedure to make the clients feel comfortable and as pain-free as possible.
How many different colors are offered? Are certain hair-color types better than others?
I use a couple of brands for shading that I love. At times, I also mix colors to best match the client's desire, skin tone and brow color. Some colors fade quicker than others. The lighter the pigment, the faster it will fade. For blondes, in particular, it is best to go a little darker for better retention.
Are there risks?
To avoid any risk of harming your skin, it is encouraged that you research and find an artist who is skilled and trained in semi-permanent makeup/cosmetic tattoo. It is also important to strictly follow the guidelines given to you by your artist including precare and aftercare for the health of your skin and to avoid any chances of infection.
What is the aftercare like?
It is essentially relaxing and do nothing! For best-healed results, the client should avoid any makeup around the brows for at least two weeks. Most importantly, it is important not to pick at them or dry skin. The peeling need to shed naturally. It is also recommended to stay out of heavy sun exposure and avoid any facial treatments throughout the healing process. After the procedure, the client will be given an aftercare ointment to be applied two to three times a day after washing the treated area. It is very important to keep your newly shaded brows as clean as possible.
How long should one wait for their follow-up/touch-up? Is it mandatory? Included with first service?
The follow-up touch-up is usually within six to eight weeks and it's included with the initial session. It is highly recommended that the client takes advantage of the complimentary touch-up as the healing results cannot be guaranteed. During the touch-up, we can add more definition and/or density and make other adjustments as necessary.
Who is Not An Ideal Candidate?
Cannot have any kind of Botox or fillers done 3-4 weeks before the procedure
Cannot have any form of Microneedling (or any similar procedure that opens the skin) 2 weeks before & 2 weeks after
No chemical peels 60 days before or 60 days after procedure (Brows will peel quicker due to chemicals traveling under the skin)
No Retinols or Retin-A or other anti-aging/acne creams, or serums containing acids as these will fade brows prematurely
Pregnant or Nursing
Under the age of 18
Skin irritation (sunburn, rash, eczema, shingles, active acne or psoriasis near the treated area)
Cannot have used Accutane in the past 12 months
Diabetes
Epilepsy
Heart or cardiac-related issues or pacemaker
Undergoing Chemotherapy or Radiation
Prone to Keloid scarring
Had an organ transplant
Viral infections or diseases
Any type of transmittable blood disease, HIV or Hepatitis
Could you explain the process of healing?
Immediately following the procedure, your brows will appear darker and bolder. This is the initial healing process and it can last up to a week or a little longer. During the second week, you can expect some peeling or flaking of the skin in pieces. It is very important not to pick or peel them as you need to allow the peeling/dry skin to come off naturally on its own to prevent scarring and premature pigment loss. Unfortunately, the peeling is not the most glamorous stage while healing. The peeling period varies from person to person. Generally, all shed approximately by the end of the second week. Once the peeling has fallen off, the brows will appear softer and lighter. The complete healing process takes about six weeks at which time the true color and density of the brows are clearly revealed. During the follow-up touch-up, adjustments can be made.